Elks Hometown Pig Roast & Dance
Friday, August 14, 2020 @ 6:00 pm - 11:00 pm
Littleton Elks Lodge — 5749 S. Curtice Street, Littleton

< Back to Event Schedule
---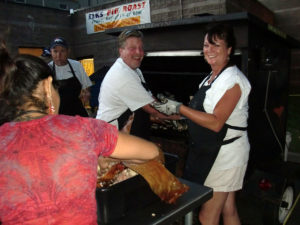 Traditional Pig Roast served buffet style — 6pm until gone! Children's plate (age 12 & younger) hot dog and chips  – prices to be determined.
Enjoy dinner, stick around. listen and dance to the music of 20 Hands High under the "big top" in the back parking lot 7pm to 11pm – no cover charge.Twenty Hands High is a 6-piece country & Southern rock band performing modern & classic country, as well as your favorite Southern rock and Texas/Oklahoma red dirt tunes, they play a dynamic mix of songs to get you dancin' in nothin' flat!
There will be a beer wagon outside and the bar inside will be open to the public. A great time to have fun and visit with friends old and new!
All COVID-19 guidelines and restrictions will be adhered to. In the event of inclement weather all event activities will be moved inside the lodge.
**Note: Event information may change and all events are contingent on COVID 19 restrictions**
Littleton Elks Lodge Trivia: The original lodge hall was located at 258½ Main Street in Littleton. A building committee was appointed and a site was purchased opposite the Court House on Broadway. Later it was sold and a new lodge home site was purchased at 5749 South Curtice Street in Littleton, where we have remained since that date. A formal dedication of the new lodge building was held on December 14, 15 and 16, 1950, by the then Exalted Ruler James A. Drehle. March 12, 2017 marked the 75th anniversary of Littleton Elks #1650.
LOCATION:
Littleton Elks Lodge
5749 S. Curtice Street
Littleton